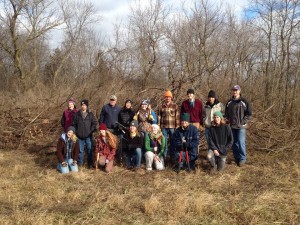 The Land Conservation Society (LCS) is a newly formed University of Wisconsin Stevens Point organization whose mission is to promote conserving land through land trusts and assisting landowners with management activities on their preserved properties. LCS works mainly alongside North Central Conservancy Trust (NCCT) through the leadership of founding President April Ann Opatik. Thanks to the help of LCS's Vice President, Chelsey Ehlers, and former LCS's member, Becky Wadleigh, LCS' first work day consisted of helping clear out buckthorn and other invasive species on Ozaukee Washington Land Trust's Kratzsch Preserve. This spring, LCS provided volunteers to assist with the management of three NCCT preserved properties including black locust removal on the Nancy Stevenson property, dam maintenance and brush removal on the Starpoint property, and buckthorn removal on the Bob and Sally Freckmann property. In addition to assisting Wisconsin land trusts, volunteers of LCS were introduced to land trust professionals, and gained experience managing invasive species.
LCS's President and NCCT Intern, April Ann Opatik, wants to achieve National recognition for the Land Conservation Society. Her goal is to establish a template so that other land trusts can create a similar club with neighboring Universities. April added that, "It's important to have diversity within the land trust community… rarely do you see someone our age. It's important to have this diversity to invoke all positive aspects within a community." With Dr. Aaron Thompson Assistant Professor in the Center for Land Use Education as LCS's advisor, membership has been promoted throughout UWSP's College of Natural Resources.
For additional information on how to enlist the assistance of LCS on your property or for advice on how to create a similar club at your organization contact Betsy at 715-344-1910 or edncct@gmail.com.