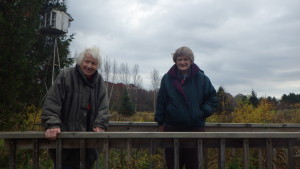 On their father's 119 birthday, sisters Hildegard and Loretta Kuse signed NCCT's latest conservation easement protecting the Kuse Nature Preserve. The Kuse Nature Preserve is a 35 acre property in the Town of Medford in the southeastern part of Taylor County. It is situated on the western most edge of the city featuring forests, agriculture fields, and a working historic farm. Much of the property is planted in hay, providing scenic open space to residents and the Medford schools neighboring the property. The trails located on the property can be assessed by elementary and high school students studying at the neighboring Medford schools.
Hildegard and Loretta Kuse first contacted NCCT in 2007 to indicate an interest in pursuing a conservation easement for their property. Their primary motivation was to preserve the historical features present and protection of the active nature center. On Friday, May 1st the conservation easement was signed, permanently protecting 35 acres of green space in the city of Medford.
Hildegard and Loretta's connection to the land runs deep; the 35 acre property has been in the Kuse family since 1881. When discussing the importance of their easement they pointed to the influence of their father, Walter Kuse, an environmentalist and artist. Walter Kuse's own experience in logging camps, contributed to his desire to be a wise steward of his land, the same land protected by the conservation easement. When asked for a quote describing the importance of their easement, Loretta Kuse instead shared a stanza from a poem her father wrote in the 1930's:
To plant the land with trees once more
With lakes on hand with a beautiful shore,
The birds and animals again can roam
And call this spot their quiet home.
For learn more about the Kuse Nature Preserve visit http://kuse.medford.k12.wi.us/main/.