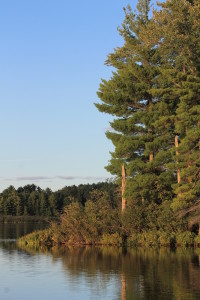 Join NCCT and the folks at Waypost Camp & Crossways Ministries on Saturday, May 13, from 1 to 5 pm. as we celebrate the milestone achievement of 4,000 acres of permanently protected land and 50 easements! 
This exciting and fun event will be held rain or shine at Waypost Camp on beautiful Mission Lake. The spacious lodge and other facilities are available in the event of rain. The day will include:
Brief presentations about the special natural resources and archaeological artifacts protected with this new conservation easement;
Hikes through the camp and its forest and wetlands;
Pontoon boat excursions with a lake expert to explore the pristine shoreline and aquatic plants;
Option to canoe or kayak from Mission Lake County Park, just across from the camp;
Birding with a local Audubon expert;
Kids activities, and
Snacks and beverages throughout the day.
Location: Waypost Camp on Mission Lake, 351 Crooked Lake Road, Hatley, WI. Mission Lake is in southeastern Marathon County in the Town of Reid. See this link for directions: https://www.google.com/maps/place/351+Crooked+Lake+Dr,+Hatley,+WI+54440/@44.7807396,-89.3566784,15z/data=!4m5!3m4!1s0x8801cc7810908833:0xfd93ffdfb2a2b04e!8m2!3d44.7767033!4d-89.3465718